OUR SOFTWARE EXPERTISE


WE DEVELOP...

Web Applications
Websites, configurators, dashboards, and APIs. On all major platforms with complete cloud infrastructure.

IoT Systems
Embedded software on distributed systems in the cloud and on-premises with fleet management.

AI Services
AI-powered services with the latest technologies and custom models tailored to your requirements.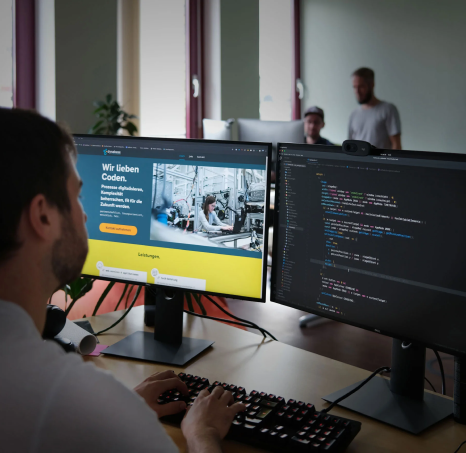 OUR SERVICES


FOR YOUR COMPANY
We develop your idea -
all in one place
dynabase covers the entire lifecycle of a product, from strategy to marketing, concept, design, software development, operations, rollouts to other countries, and long-term maintenance. While you steer in the background as a stakeholder, a team with broad expertise works on your success - agile and fully transparent.
We strengthen your team
for software development
Already have a team and looking for reinforcement? We're happy to reinforce your team with our expertise as Scrum Master, Product Owner, UX/UI Designer, Developer, or DevOps. As a service provider, we have been successfully doing this for international companies for years.
Smart strategies
for your business
With our experience and expertise, we enrich you in many questions related to software development, cloud, IoT, AI, and eCommerce. We help you make the right decisions.
Together
at the whiteboard
With Design Thinking workshops, we refine your ideas, test prototypes, and design development strategies. We're happy to offer our facilities and hospitality.
Fit for the future
We accompany your teams in the long term and help improve culture, processes, and IT concepts sustainably. We pass on our experience in agility, Design Thinking, and Lean Startup.
THE SPECIAL
Strong Expertise
Quality is really important to us. We develop with high security standards. Our services are highly available and practically infinitely scalable. We work pragmatically and hands-on in small iterations.
Intrinsic Motivation
We love challenging problems that challenge and inspire us. We reflect and love to learn new things.
Win-Win Principle
We strive for long-term partnerships that benefit everyone.
Highly Qualified People
The professionals you meet in the initial discussions are the ones who actually implement your projects.
Personal Growth
We actively invest in further education and hackathons.
Agile DNA
We live an agile culture - from start to finish - through and through.
OUR AGILE
PROCESS
We are looking forward to your message
—
Norman Wenk
Managing Director
By submitting this form, I consent to the processing of the personal data provided by me personal data provided by dynabase GmbH in accordance with the
Privacy Statement
.

TALK TO US